JEWELRY FROM SUB SAHARIAN & NORTH AFRICA 01 / Various jewellery N & W Africa 01.03
Your search result
object found
objects found
Sorting
Refine your search
Category
Origin
Material
Quality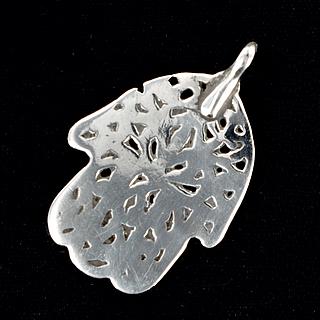 Silver "hamsa" pendant
01.03.1430
North Africa | TUNISIA | Multiple regional tribes
Elements for individual jewelry design
Excellent overall condition
Jewelry ready and easy to wear
40 x 27 mm Weight: 4 gr

The hamsa is a palm-shaped amulet popular throughout the Middle East and North Africa and commonly used in jewelry. The five pillars of Islam are often represented by the five fingers of "the hand of Fatima.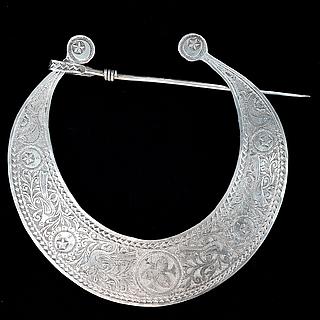 Berber silver fibula in half moon shape
01.03.1357
Collectible (fine or rare example of an object)
Excellent overall condition
Jewelry for collection or exquisite wearing.
Diameter: 1750 mm Weight: 160 gr


This crescent-shaped fibula called "Khlal" is a silver half moon carved on both sides with fish, birds, crescent moon. Beautiful silver work. The Arabic word "قمر", which means "Moon", refers to a crescent; it is not strictly speaking a whole piece of jewellery, it is rather an ornamental part.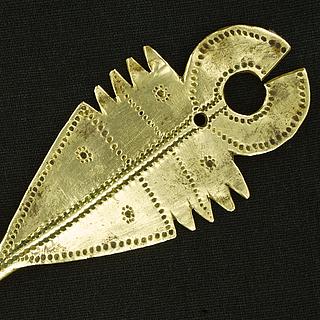 Mossi hairpin
01.03.1400
West and Central Africa | BURKINA FASO | Mossi
Antiques (object shows signs of long use)
Museum quality (worthy to be added to a museum's permanent collection)
Excellent overall condition
Cleaned and/or polished
Length: 160 mm; width: 40 mm Weight: 34 gr

A beautiful brass hairpin surmounted by a motif representing a scorpion. Only married Mossi women are allowed to stick them in their headdress.