Items similar to Central Asia Pendant Necklace 04.01.1458
Your search result
object found
objects found
Sorting
Refine your search
Category
Origin
Material
Quality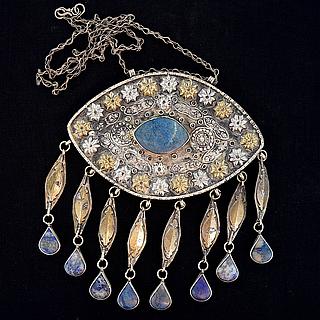 Central Asian Pendant Necklace
04.01.1456
Central Asia - Silk Road | Central Asia - Silk Road
Silver not tested
Lapis Lazuli
Collectible (fine or rare example of an object)
Good overall conditions (signs of use, small imperfections)
Jewelry for collection or exquisite wearing.
90 x 140 mm; incl. tassels 180 X 140 mm Weight: 197 gr

This oval shaped pendant necklace has a raised centre with an oval Lapis Lazuli in its centre. The pendant also has fine repousse work. From the pendant dangle 8 dangles with a drop-shaped Lapis Lazuli on each end. One dangle needs to be resoldered, see picture).