PIPES & SNUFF BOXES 21 / AFRICAN PIPES 21.01
Your search result
object found
objects found
Sorting
Refine your search
Category
Origin
Material
Quality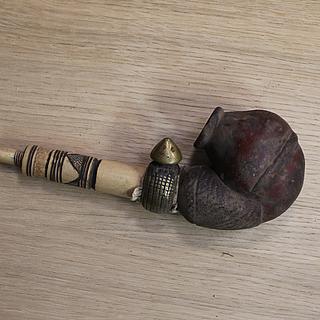 Tobacoo pipe terracotta head
21.01.590
Not specified | Not specified | Not clearly identified
Terracotta
Wood
Brass / bronze
Collectible (fine or rare example of an object)
Good overall conditions (signs of use, small imperfections)
High aesthetic value
Height. 22 cm; diameter of head: 50 mm Weight: 220 gr

The present pipe, whose origin is not guaranteed, has a terracotta fireplace and then a wooden tube with a beautiful bronze ring.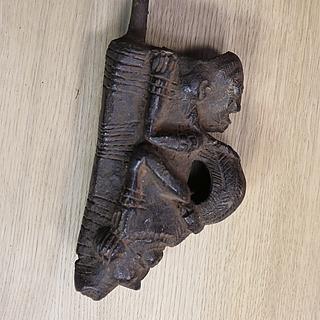 Anthropomorphic pipe, Cameroon Grassland
21.01.589
West and Central Africa | CAMEROON | Bamileke, Tikar, Bamoun
Collectible (fine or rare example of an object)
Good overall conditions (signs of use, small imperfections)
High aesthetic value
Heights: head:16 cm; overall 35 cm; width: 10 cm Weight: 495 gr

The prestige pipe, also known as the ceremonial pipe, is an object dedicated in the same way as thrones, stools with anthropomorphic or zoomorphic figurations. In the chiefdoms of Grassland, only the notables are allowed to own them. The city of Nasi is the main known pipe manufacturing centre in Grassland.